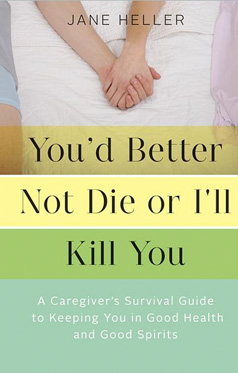 Publisher:

Chronicle Books

Available in:

Paperback, eBook

ISBN:

978-1452107530

Published:

October 31, 2012
Barnes & Noble
Amazon
Amazon.ca
Interviews & Appearances
Advance Praise
Reviews
Inspiration
Introduction & First Chapter
Summary
Jane thought she'd found her dream husband in handsome, healthy Michael, a sailor and architectural photographer, until it turned out he'd been hospitalized nearly seventy-five times before they met. Afflicted with Crohn's disease, Michael wasn't so healthy after all, and Jane learned that being a caregiver can strain even the most solid relationships.
With her sly wit and novelist's eye, she shares her experiences – from how to get that cranky surgeon to talk to you ("box the doc") to why men should never go to a doctor without a woman along ("nagging wives save lives"). Throughout, she consults her "roundtable" of caregivers, such as Emmy Award-winning actor Victor Garber and "Dear Abby" columnist Jeanne Phillips, to answer the question "Am I the only one who feels this way?" Plus, advice from experts brings you the most up-to-date guidance on staying healthy and sane while caring for a loved one. You'll find tips from meditation teachers, fitness instructors, therapists, even a cookbook author with recipes for stressed out caregivers. Nothing's off-limits in the book: not living wills, not sibling rivalry, not friendship, not sex.
Whether you're wrestling with the decision to place Mom in a nursing home or assisted living community, confronting the challenges of having a chronically or critically ill spouse, or coping with the stress of raising a child with an illness or disability, Jane is your trusty companion in this personal and invaluable resource – an irreverent yet always compassionate girlfriend's guide to caregiving.