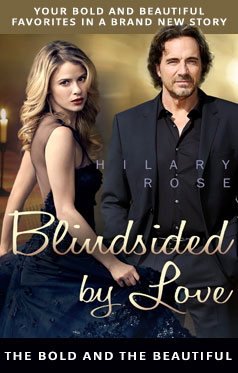 Publisher:

Momentum

Available in:

Paperback, eBook

ISBN:

9781760082109

Published:

December 1, 2014
Barnes & Noble
Amazon
Kobo
Inspiration
First Chapter
Summary
Devastated by her divorce from Rick Forrester, Caroline Spencer left Forrester Creations, decamped for Manhattan and threw herself back into the social whirl. She hoped the forced merriment would help her forget that it was her designs that had ensured Rick's success at Forrester. They were a team personally and professionally. But then the almighty Ridge Forrester claimed the chairman's seat when his father retired, and a demeaned Rick sought comfort in another woman's bed. Even as she blamed Rick for her heartbreak, she resented Ridge and his whiff of superiority and entitlement. Why everyone thought he was so charismatic was a mystery. Sure, she missed designing, missed LA, missed Rick, but there was no way she was going back to Forrester Creations – ever. Across the country in LA, a wildfire erupts in Malibu Canyon where Ridge's son RJ is visiting a friend. Ridge rushes to Malibu to rescue his son. The fire crew orders Ridge to stay back, but he won't listen, not when his boy is still inside the structure. He pushes past the barricade and the flames, finds RJ and carries him to safety, but he suffers a form of flash blindness from the intense light and fumes. The condition should be temporary, but it's lasting longer than expected, perhaps because Ridge can't design, can't work, can't emerge from behind his dark glasses. He feels useless, his vision limited to dim shadows and blurry images.
Caroline gets a frantic call from the Forresters, explaining that Ridge's condition has severely compromised his long-planned fashion show to honor the anniversary of his mother's death and raise money for cancer research. The event date is looming. They plead with Caroline to come back to Forrester Creations, if only until the show is over, to collaborate with Ridge and oversee the fundraiser. He'd never ask her himself – he's much too proud.
Caroline agrees. She's certainly not Ridge's biggest fan, but she has compassion for his loss of sight, and raising money for cancer research has always been important to her. She can't say no.
She returns to Forrester Creations and immediately has her hands full. While Rick tries to charm his way back into her heart, Ridge is more judgmental than ever, barking orders at her, never satisfied, and yet it's him, not Rick, she's attracted to. She hasn't seen Ridge's vulnerable side before. His sight loss has forced him to depend on her, like it or not, and she feels needed. She's never shied away from a project and Ridge Forrester is a project. She refuses to indulge his dark moods and instead calls him out on his behavior, pokes fun at his pretentions, keeps the atmosphere upbeat. Since he must avoid actual sunlight, she becomes his sunlight. But Ridge is Rick's nemesis, and she can't let anyone know how she feels or there would be a battle between the two men – a battle the company can't afford before the big event.
Does the fundraiser go on as scheduled? Will Rick find out that Ridge and Caroline have forged a bond that has moved well beyond a professional collaboration – a full-on romance that neither of them saw coming? Will Ridge, who refuses to be a burden to Caroline as long as his blindness persists, allow himself to declare his love for her? And will she choose him over Rick, the man she once adored? Filled with the same drama and passion for which "The Bold and the Beautiful" is famous and sure to delight B&B fans all over the world, Blindsided by Love is a compelling stand-alone story too.