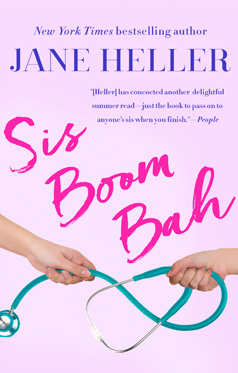 Publisher:

Diversion Books

Available in:

Hardcover, Paperback, eBook

ISBN:

9781682303610

Published:

March 22, 2016
Barnes & Noble
Amazon
Kobo
Reviews
Inspiration
Read the First Chapter
Summary
In the uproarious Sis Boom Bah, Jane Heller captures the true essence of sisterhood–the exasperation and the affection.When their mother suffers a heart attack, two sisters are forced to stop the squabbling that has defined their relationship since they were kids, and kiss and make up. Deborah Peltz, a soap opera writer in New York, and Sharon Peltz, a wedding planner in Florida, grudgingly agree to a truce for the sake of their mother's health; and, their fragile peace holds–until a man comes into their lives…a man to whom they're both attracted…a man who happens to be their mother's cardiologist.
It doesn't take long before insults are hurled and verbal fists fly. But Deborah and Sharon's bickering takes an entirely new turn when they discover the object of their mutual affection stretched out on the floor of his den–dead. Suddenly, the Peltz sisters go from being each other's enemies to each other's alibis. They're on the police's list of suspects for the doctor's murder, and sibling rivalry or no sibling rivalry, they've got to bury the hatchet and get themselves out of trouble. In the process, they not only find men of their own to love…they find a way to love and accept each other.
In the comic tradition of Jane Heller's previous novels, Clean Sweep, The Club, Infernal Affairs, Princess Charming, and Crystal Clear, Sis Boom Bah is as hilarious as it is poignant–a book that will provoke laughter in all sisters, hopefully nudging a few of them to let go of past hurts and mend fences.