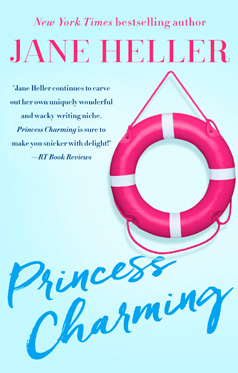 Publisher:

Diversion Books

Available in:

Hardcover, Paperback, eBook

ISBN:

9781682303566

Published:

March 22, 2016
Barnes & Noble
Amazon
Kobo
Reviews
Inspiration
Read the First Chapter
Summary
What do you get when you put three divorced women and one desperate hit man on a ship bound for the aquamarine waters of the Caribbean? You get Jane Heller's sparkling novel of love, sex and murder. Feisty, fast-talking P.R. executive Elaine Zimmerman and her best friends Jackie Gault and Pat Kovecky have taken their annual vacations together ever since they first met in the courthouse getting their respective divorces. They've been everywhere and done it all, from herbal wrapping to white-water rafting to running with the wolves at some New Age place in the Catskills.
This year, Jackie and Pat have talked the land-locked Elaine into a seven-day cruise aboard the spectacular megaship, the Princess Charming. It isn't her idea of a good time — especially when her luggage is mislaid and she's forced to resort to the ship boutique's tacky version of cruisewear. As for meeting Mr. Right on board, Elaine stopped believing in happily-ever-after when her undertaker husband cheated on her with the woman who performed last-rite makeovers on the corpses.
It's a chip on her shoulder Elaine's proud of, until it's knocked off by a surge of romantic electricity the first night at sea when she's seated next to Sam Peck. This couldn't be love at first sight (because she doesn't believe in love at first sight), or even lust at first sight (because she's the least lusty person on the planet), but whatever it is she can't resist it. She's on a once-in-a-lifetime holiday, and it wouldn't kill her to fall in love.
…Or would it?
A glimmer of doubt becomes full-fledged suspicion when Elaine inadvertently learns that somebody's ex-wife has been marked for murder — and the hired hit man is already on board. But who's going to believe a world-wary New York career woman with a touch of paranoia? More to the point, whose ex is out to deep-six whom… and who's going to do it?
With her merciless eye for detail and wicked wit honed to knife-edge perfection, Jane Heller has crafted a novel that combines satire and suspense, mystery and romance while also managing to skewer the social pretensions of the upwardly grasping. Princess Charming is a sexy, funny, buoyant celebration of friendship, life, lust and, of course, true love. Even if the glass slipper is several sizes too small and the prince arrives about ten years too late.