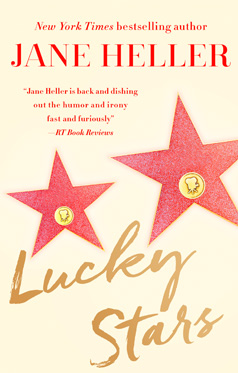 Publisher:

Diversion Books

Available in:

Hardcover, Paperback, eBook

ISBN:

9781682303580

Published:

April 26, 2016
Barnes & Noble
Amazon
Kobo
Reviews
Inspiration
Read the First Chapter
Summary
Jane's 10th novel, Lucky Stars, is a mother-daughter story that's set in Hollywood but should have mothers and daughters everywhere laughing out loud and nodding in recognition.The heroine, Stacey Reiser, is a struggling actress in L.A. She's pushing thirty-five and still waiting for her Big Break, and she's on the fence about whether she should continue to pursue her dream or give it up and get a real job. Her widowed mother, Helen, who has recently moved to L.A. from Cleveland in order to be closer to her, is one of the great meddlers of all time. She's in Stacey's face about everything – her hair, her clothes, her boyfriends, you name it – and she drives Stacey nuts. All Stacey wants is for her mother to get a life. How could she ever have imagined that the life her mother gets is the life she desperately craves!
Through a quirk of fate (or is it dumb luck?), Helen, a chronic complainer, finds a bone in her can of Fin's Premium Tuna and writes a nasty letter to the tuna fish company. To placate her, the company invites her to their cannery to inspect the premises, and while she's there, giving everybody a tongue lashing, the executives decide she should star in their new TV ad campaign. They love her no-nonsense attitude, her blunt manner, her "realness." No sooner does her first ad run then she becomes a huge celebrity (remember Clara Peller, the "Where's the beef?" lady from the old Wendy's commercials?). Suddenly, she's the actress in the family, not Stacey. What's more, after years of criticizing Stacey's choices in men, now it's Helen who's got a boyfriend – a guy with a very checkered past. The question is: should Stacey meddle in her mother's business, the way her mother has always meddled in hers? The answer's yes, because it just might mean saving Helen's life.
A comic tale that every mother and daughter will relate to, the novel combines elements of romance and suspense for a rousing good read.