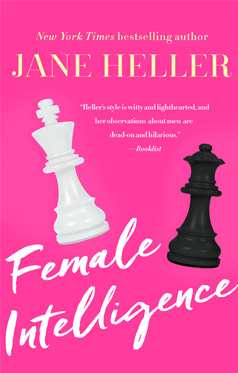 Publisher:

Diversion Books

Available in:

Hardcover, Paperback, eBook, Audiobook

ISBN:

9781682303634

Published:

April 26, 2016
Barnes & Noble
Amazon
Kobo
Reviews
Inspiration
Read the First Chapter
Summary
A contemporary comedy of manners, Female Intelligence is a social satire about the way men and women communicate – or don't.
Dr. Lynn Wyman has a wildly successful practice in sensitivity training, instructing men how to become fluent in the language of Womenspeak so they can relate better to the women in their lives. She teaches them how to ask for directions, how to participate in "active listening" and how to say, "How was your day?" With thousands of satisfied clients, numerous talk show appearances and a bestselling book, Lynn Wyman is at the top of her game. But when Lynn's personal life suddenly becomes the stuff of tabloids and her professional reputation is sullied, she must do something – anything – to resurrect her career.
After spotting macho CEO Brandon Brock on the cover of Fortune magazine's "America's Toughest Bosses" issue, she bets her friends that, by tinkering with his words, by adjusting his speech patterns, by putting him through her Wyman Method, she can turn him into "America's Most Sensitive Boss" and climb back on top. Little does she know that by winning her bet she will lose her heart.
Female Intelligence is a hilarious look at our inability to bridge the communication gap between men and women, despite all the Mars/Venus books on the market. It's got Heller's trademark mix of humor, romance and suspense, not to mention her dead-on take on men, women and relationships.