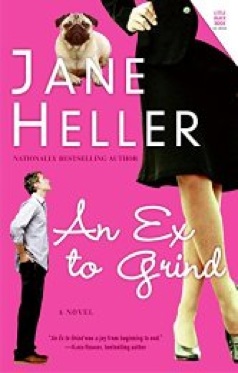 Publisher:

HarperCollins Publishers

Available in:

Hardcover, Paperback, eBook

ISBN:

978-0060899301

Published:

October 13, 2009
Barnes & Noble
Amazon
IndieBound
Reviews
Inspiration
Read the First Chapter
Summary
The battle of the sexes rages on in Jane Heller's smart, witty, and extremely timely new novel. This time she poses a provocative question: while it's common for deadbeat husbands to dodge their alimony payments by nefarious means, what happens when a woman plays by the same fast-and-loose rules? In An Ex to Grind, Manhattan financial planner Melanie Banks likes being on top. She's addicted to the money, the power, and the success only hard work and long hours can bring. When she first meets and falls in love with pro football player Dan Swain, she admires his work ethic too. But then they get married and his career comes to a screeching halt, and suddenly she's the one bringing home the bacon – and falling out of love with him. In the years – years! – since he last held a job, he's become a paycheck-devouring, couch-sitting mooch, and he likes it that way. And Melanie decides it's time to lose the loser.
Divorce, however, isn't all it's cracked up to be. For starters, Melanie's forced to share custody of Buster, the couple's adorable dog. And married or not, she still has to support the income-less Dan in the princely style to which he's become so infuriatingly accustomed. Whether the overpaid lawyers term it "alimony" or "maintenance," the bad news is that she has to pay it – and keep paying it until death do them part.
But there is one loophole.
If she can dump her ex onto some other unsuspecting female for ninety days and get him to violate their cohabitation clause, she's off the hook – forever.
Sound tricky? Not for Melanie Banks. The first step is to secretly hire Desiree Klein, New York's premier professional matchmaker. It's not long before Desiree supplies Ms. Right (or at least Ms. Right-for-Ninety-Days) and Dan walks straight into the trap. Before Melanie knows it, her lazy ex has a new love, and by the end of the ninety days he'll be out of her life – and her checkbook. Revenge is going to be so sweet…
Unless Melanie gets caught in a little loophole of her own creation.
Dan's fresh start has revitalized him. His new sweetheart is miraculously transforming him into a responsible, caring, focused go-getter. In other words, he's becoming precisely the man Melanie always dreamed he could be. And now she wants him back.
With a finger on the pulse of women everywhere, Jane Heller, one of the funniest, most sly voices in fiction, turns the gender war on its head with An Ex to Grind, an unmitigated delight from first page to last.