I haven't written a Mainly Jane post for months, and I can't blame the snow. But Northwest Connecticut sure did get a lot of the white stuff and after living in California for many years I wasn't thrilled about it. But spring is here (except it's supposed to snow again today – ugh) and I decided to jump back on the blog.
The real reason I haven't written a new post is because my mother died in November and I've not only been grieving the loss of her but handling her affairs – from the sale of her house to the giant tag sale there a couple of weeks ago. She and I were very close and I miss her everyday. Here we are at my wedding almost 25 years ago.
She was a writer herself, having had her essays about domestic life published in the Westchester section of The New York Times. An avid reader too, she ran her book group for many years. But it was her steadfast championing of my writing career that meant the most to me. Whenever I had a new book published, she was first in line at her local bookstore buying copies for herself and all her friends. She also had a great sense of humor. If I got a bad review, she'd curl her lip and say, "I'll break their kneecaps."  The threat always made me laugh because she was tiny and gracious and decidedly not prone to violence. But she had my back – always.
It's no wonder that my latest novel, the second draft of which I've just finished, focuses on a mother and daughter. It's about grief too, but I hope I've handled the subject with humor and heart. I'm waiting for my editor to weigh in on this latest draft and then we'll see where it goes.
In other news, one of my older novels, Name Dropping, about two women with the same name whose identities get mixed up, is being shopped in Hollywood again.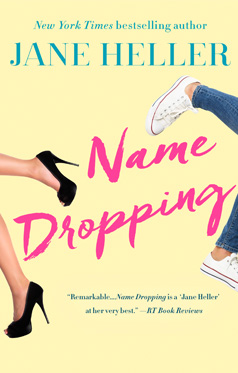 When it was first published, it was optioned for a feature film by Miramax and the screenwriters of "Legally Blonde" were hired to write the script. But as with so many book options, this one never went anywhere. Now, two new producers are hoping for a TV movie adaptation. Fingers crossed.
More to come now that I've emerged from hibernation!