Yup, I'm the one in the middle and I'm wearing a chef's hat and apron, as is Michael along with Kimberly Thorn, the co-owner with her husband Clint of Thorncrest Farm in Goshen, CT.
Thorncrest was the next stop on my research adventure (see blog posts Parts 1, 2 and 3) to put myself into the farm-to-table "agri-tourism" world my characters will encounter. Our agenda for the bright and sunny morning was to begin in the barn with Clint and learn about his dairy cows.
Unlike Arethusa Dairy with its state-of-the-art facility, Thorncrest is a two-person operation (plus Clint and Kim's two sons) and no less engaging in its own way. Clint and Kim are all about the milk, of which they're justifiably proud, but also about the cheese and chocolates Kim makes like a true artisan. Everything tasted pure and fresh and like nothing I'd ever experienced before. It all comes from the cows and, Clint was emphatic in noting, the fact that they're cared for in a stress-free environment because stress affects the quality of the milk. Check out these Jerseys cows. Don't they look relaxed?
After Clint gave us all a little history of the farm, we got down to business: I milked my first cow! It was fun! And I was thrilled when milk actually came out!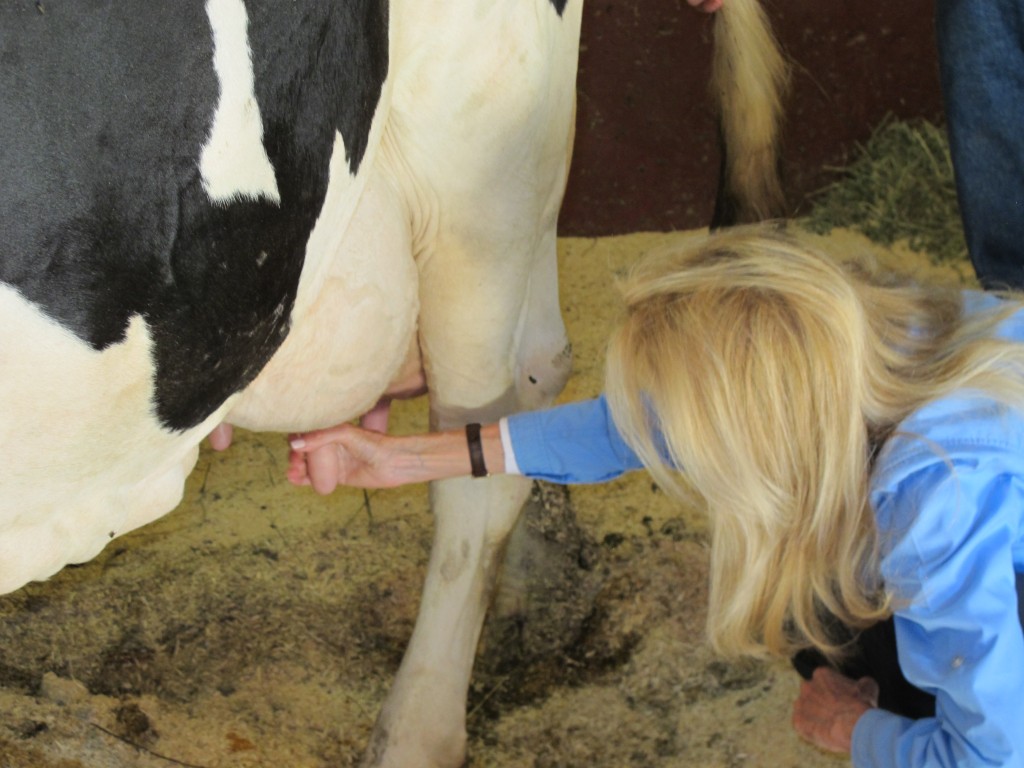 After we all had our chance to milk, Clint took over and pumped out the necessary quota for the day. The milk was then transferred into the dairy area where Kim met us and gave us the hats and aprons to put on. Then into her kitchen we went and it was time to learn how to make cheese. She gave us step-by-step instructions in making both ricotta and mozzarella. Here she is taking the temperature of the hot milk I was stirring.
It was exciting when it reached the proper temperature and the curds were very much in evidence.
My ricotta came out great and we took home several containers. Yum.
Next came the mozzarella, which involved stretching it to get the lumps out.
Once it's shiny and smooth, it goes back into a ball and is ready to sample. Yum again. We took home several containers of it too, along with the samples of the chocolates Kim had just made.
Seriously, maybe I'll forget about writing novels and just research them. Could there be anything more fun?