Last year I posted the exciting news on the web site that An Ex to Grind had been optioned by Fox for a feature film.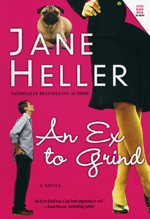 To be produced by Laura Bickford ("Duplicity") and Julie Yorn ("Bride Wars"), the movie was packaged with Cameron Diaz and Benecio Del Toro attached to play bickering exes Melanie and Dan. What I've since learned is that Fox hired red-hot screenwriter Jeremy Garelick to adapt the novel. Who's he? For starters, he wrote the script for the Vince Vaughn-Jennifer Aniston comedy "The Break-Up." But he also was the uncredited scribe of the biggest comedy of 2009, "The Hangover."
The last I heard he was supposed to deliver his "Ex to Grind" script by Christmas, but maybe he's still working on it. All I know is I hope it's good and I hope Fox likes it and I hope….Well, you know what I hope. I want one of my books on the big screen already!